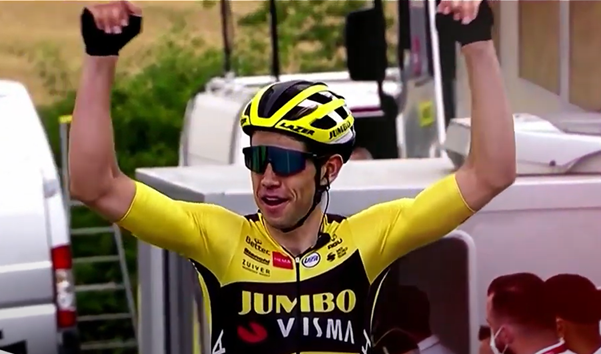 Wout Van Aert – Phenomenon?
June 23rd, 2020 by
paulhart
So… Van Aert has won the biggest cross races in the world. He also beats the best in time trials, and now out sprints the best on the world's biggest stage. This shouldn't be possible.. should it?
Cross races and time trials are polar opposites aren't they? The power delivery of a time trial should be a perfectly consistent horizontal line. The power delivery of a cross race is the opposite, the graph looks like the teeth of a saw, just like a crit. BUT if you remove the first 5 minutes, the heart rate of a cross race is identical to a time trial.
To be a great cross racer a fundamental component is HEART RATE TRACE. It takes a significant amount of training. Just ask a time triallist how much time they spend training to hold a high heart rate for long duration's. The answer should be lots! Cross racers are the same, they need to hold this high heart rate for an hour. It requires huge aerobic endurance. Remove the madness of the first 5 minutes of a cross race, it's basically a 55min time trial. Everyone rides at the highest intensity they can sustain until the finish. Van Aert would have spent lots and lots of time doing 20-30min Zone 4 efforts. It's about holding a high heart rate and not letting it drop.
Cross racers also need big 30sec and 1min power. After all there are parts on the course where you wont be able to ride unless you have this. This is why Van Aert won yesterday's sprint. The stage 10 finish was on an incline which meant the sprint was more about power than aerodynamics. Viviani's aerodynamics are considerably more refined, hence why Viviani cannot ride his bike in the drops other than when he is spiriting, but Van Aert has a superior 30sec power, that's why he deliberately started his sprint early and he won. It was a competition in power delivery.
Tom Pidcock also excels in many cycling disciplines. The current world U23 cross and junior Paris Roubaix champion has previously won a Time Trial world title and a National crit title. Obviously both riders are unbelievably talented, but their cross training has them perfectly prepared for crits, punchy sprints and the time trial.
So to summarise. If you have been time trialling all year try cross this winter, you are better equipped than you realise. Also beware the cross racer! They will probably outsprint you, and possibly beat you in your next time trial!
First eastern region cyclocross event is the Amis Velo @ Hilly Fields, Colchester on 8th September.
https://www.easterncross.org.uk/league.htm