Achievements:
Team 12hr National Record. 2nd AG National Circuit Championships 293mile 12hr TT.
"I contacted Paul to ask for help following a disappointing race result. Having self coached for years I felt I had run out of ideas and that the racing season would drift by without success. Paul came to the rescue with a rescue plan for the season. His racing pedigree was what drew me towards asking for coaching support . His enthusiasm, knowledge and understanding was what got me back on track for the racing season. After 30 years of competing in endurance sports it was exciting to discover new things and learn more about myself as an athlete. A well structured and adaptable programme saw me hit my main target event fresh and perfectly prepared to race. The result was my best performance since returning to racing. Seeing improvement in my athletic performance despite getting older is a great feeling, made possible with Paul's help."
Achievements:
2020 12hr TT club record - 246 miles
"I went to Paul Hart on some recommendations. Riders that went to him couldn't speak more highly and they were all smashing their PB's. So I made an enquiry and Paul sat down with me and we discussed my goals including the 12 hour. I was really impressed with the depths he went into to understand me as a person and what drives me. I have always been very ambitious and whatever I do I like to do well. Paul commented on each session I did and  we also had follow up skype calls to discuss the training plan, what was working and what wasn't. Paul was very supportive and didn't beat me up if I missed the odd session due to long hours at work. When I needed extra rest this was not a problem. I knew in advance what the week ahead was going to look like so I could then plan my work around training. I do like a plan! I had a couple of disappointing races but Paul remained encouraging, dusted me down and kept me focussed on the big one."
Achievements:
Club Records, PBs at every distance, Multiple TT WINS and ECCA championship WIN.
"I first approached Paul at the end of the 2019 season after seeing great results from other HPC riders, and of course Paul's own incredible performances! I wanted that same success and over the last two seasons with Paul's coaching and my commitment to the training, I have achieved far more than I thought possible!  This season I have taken over 2 minutes of my 25 and 50 mile TT pbs, to 55:15 and 1:54:22, respectively,  along with winning some key races, one being the ECCA ladies championship!  I really enjoy the structure of the training and the support from the HPC community.  It has got me through those tough days in winter and lockdown!  Paul is always supportive and understanding and has prepared me well for every race, especially those times where self doubt creeps in, he's there for reassurance! I'm really looking forward to starting my third winter training block and building on my success from the last two seasons."
Achievements:
PB at every TT distance.
"This year i decided to take my time trialing a bit more seriously. I had watched my son make a return to the discipline due to lockdown restrictions and had accompanied him to a number of Opens and thought I'd like to be fit enough to make it worth travelling to races rather than just doing club 10s..As someone with a busy full time job as a teacher i needed someone who would understand the time pressures i was under, so  asking Paul to become my coach was the best decision I could have made, his tailor made sessions, constant communication, his advice and, most importantly of all, his encouragement have made all the difference. As an older cyclist, my best times should be behind me but with Paul's expertise not only have i had a fantastic season – chopping off three minutes from my 10 mile time and slashing 10 minutes off my 25 time and hitting undreamed of course bests on a range of circuits."
Achievements:
4th cat to 2nd in first season. Race WIN at Hog Hill.
"I got in touch with Paul at the start of this year after a period of really low motivation and thought it would be good to add some structure to my training. I've always cycled and have done more seriously for the last 5 years or so but have never really followed a proper training plan. I had also dabbled in crit racing with limited success. Paul's racing background was what really drew me in and I was keen to learn from his experience. I was also keen on o be part of a supportive group of athletes all with similar aims and ambitions. My aim was to get some results in crit races and hopefully get enough British cycling points to upgrade to category 3. My first crit race after a few months of working with Paul I won and after a successful season of top ten finishes in almost all races I completed I got enough points to upgrade to category 2. I've developed a lot as a rider and racer this season and I'm really looking forward to what I can achieve next season."
Achievements:
PB at every distance. Power and position transformed.
"I knew if I was going to improve I needed to do something different and coaching was the choice – I needed to learn to train correctly and also prepare for races. I never thought however that I would be this impressed with the programmes, and also insights in to racing Paul has given me. From pacing of the race to the overall taper the instructions and support are extensive and nothing seems to be overlooked – I feel like I am the only one he is working with at times and this makes me want to push myself harder and harder to achieve my goals and show that the effort put in is worth it. My training has been transformed, I have increased power significantly as well as scored PBs in every distance this season, and in most races I have done against last year's results. I turn up to the race mentally and physically prepared and know exactly what I need to do to improve and challenge for the top 10 in each outing."
Achievements:
13 TT wins in first season with HPC. PB at every distance.
"Competitive cycling had been a big part of my life for 5 years.  I'd been racing road, TT and cyclocross for years with mixed success, always committed, always training hard, but crucially without structure or clear direction.  Realising I had reached a performance plateau towards the end of 2020 I reached out to Paul based on a number of recommendations.I went in expecting results, and was delighted to see rapid improvement in key performance metrics during the winter months.  It wasn't until completing my first TT of the season that I began to appreciate the magnitude of the performance gained.  I took thirteen TT wins during the year at club and open level, contributing to a number of overall points competition and trophy wins for the season.  Having never won a TT before this year it's fair to say I have been delighted with the results. The level of support offered by HPC is truly exceptional."
Achievements:
4th Cat to 3rd Cat – WIN at Bovingdon.
"I've gone from an average racer to a winner in 2019.. If you put your faith in to Paul and dont miss a session then you will reach your goals. Believe in Coaching. Paul's own performances should tell you all you need to know."
Achievements:
Coming soon...
"It's been great working so closely with such a professional coaching outfit as HPC. The sign of a great coach is always how they respond when things don't go to plan and Paul has been incredible, helping me to find race competitive form following a near life changing accident.  Paul is extremely knowledgeable and uses the latest coaching theory to maximise gains in fitness and outcomes. I am proud to represent HPC in my events and look forward to the coming season with excitement!"
Achievements:
Fastest 10mile trial EVER at aged 62.
"It hasn't been an easy first 12 months as a coached rider with Paul. Personal loss, illness & injury caused by being attacked on the bike whilst warming up for a race have contributed to my year.  However the main constant through the time has been the knowledge, methods & coaching skills from Paul. Right from the first extensive meeting, through the almost daily communication, care & consideration that has been shown, my overall power has increased, my technique has improved & I am enjoying my riding again. I am now, with Paul's expertise, confidently looking forward to achieving & exceeding my goals."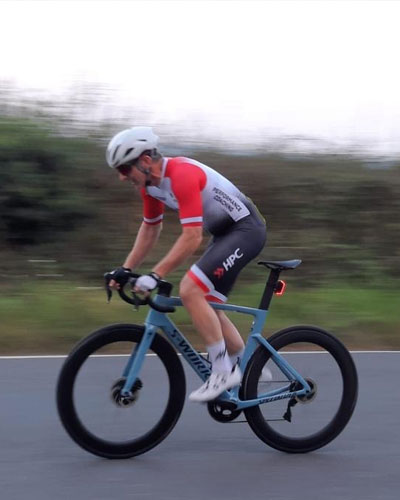 Achievements:
4th Cat to 3rd Cat in BC rankings
"For many years I simply enjoyed riding my bike. Whilst this kept me relatively fit and healthy I always wanted to ride faster and further. This desire was well and truly ignited when I entered a novice crit race series in 2019. From that moment on I was hooked on racing and knew that my training had to change. That's when I first contacted Paul at HPC. Having known Paul from the past whilst racing triathlons I knew of his prodigious talent on the bike. So to approach him for help was a bit of a no brainer. My thoughts were 'what better person to coach you than someone who has been there and done it'? From our first meeting I could tell just how thorough Paul is in his approach to training. The training sessions he sets always have a purpose…..empty miles on the bike are most definitely a thing of the past! And after each and every workout Paul provides useful feedback on the session."
Achievements:
70.3 Triathlon PB by over 45mins.
"I wanted structure in my training and Paul Hart came highly recommended from a friend. Coming from a multisport background I wanted to see gains from my bike and increase power and efficiency.Paul discussed at length my race history and goals for the 21 season and what I wanted to achieve and improve upon. Paul carefully considered a tailored plan focussing on building big strength on the bike.  My data was evaluated after every session in detail providing me with invaluable feedback whether that positive or areas to work on.As a result my planned runs off the bike were getting stronger and stronger. I have only been coached for the last few months and I have to say it was the best decision made the results speak for themselves I smashed by last half ironman distance by 45mins at Holkham. Paul's advice is second to none having been there and done it! We are now working on my next half ironman race in September!"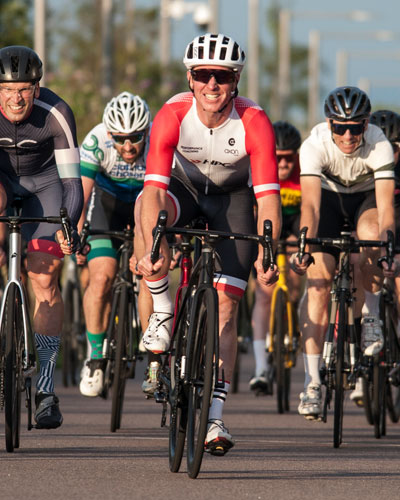 Achievements:
4th Cat to 2nd Cat in 4 months. Inc Two WINS.
"I was recommended to Paul by another HPC member. I have been cycling for two years after retiring from rugby, and this year I decided to try racing. After really enjoying a couple of races I could see focused coaching was going to be key to improving. Paul's coaching feels really hands-on and personal, he always listens and can often see how I felt before I've even fed back to him. I was always anxious about stepping my training up and how I would cope, but alongside the hard work, Paul is always championing the importance of rest and recovery. His knowledge of training and racing is extensive and has definitely given me the edge I needed. My goal was to move from Cat 4 to 3 but after two wins, two seconds, one third and a number of other points scoring results I have now achieved Cat 2. My results and achievements speak volumes for Paul's programme and should be a top consideration for anyone who wants to achieve."
Achievements:
PB at every TT distance
"I've known Paul for around 10 years from triathlon, local TTs with Southend Wheelers my club, and know Paul is an incredible athlete and cyclist. After over a decade of triathlon, from sprint to Ironman, marathon swimming, whilst I was moaning about juggling all three disciplines and running injuries after a TT to the amazing Lisa Hurrell, she inspired me to just cycle this year, I had just done a 6 week pre season TT coaching taster with Paul via Southend wheelers and wanted more! So I put triathlon on the shelf, followed Paul's coaching and cycled 5-6 days a week and as a 52 year old female was blown away by the results. I never expected to get faster at my age and this year have knocked around 10 mins off my 50, 9 mins off my 25, 3 off my 10 and had so many PBs. Paul said if you just cycle you will win some races. And he was right."
Achievements:
10 mile TT PB
"I've been with HPC for just over 4 months, I've got faster with less training and not so tired. Paul is a top bloke and always at the end of the phone. More gains to be made for next year."